Are you looking for Hazrat Ali quotes about enemy.. You should know the famous sayings of Imam Ali (a.s) about the enemies.
Here's the definition of enemy… An enemy is a person who actively opposes someone or something or someone who is opposed to someone else and tries to do them harm.
Hazrat Ali Quotes about Enemy:
The most famous enemy quotes and sayings by Hazrat Ali (A.S) are given below:
1- One who does not care for you is your enemy.
2- Have your eyes on the enemy.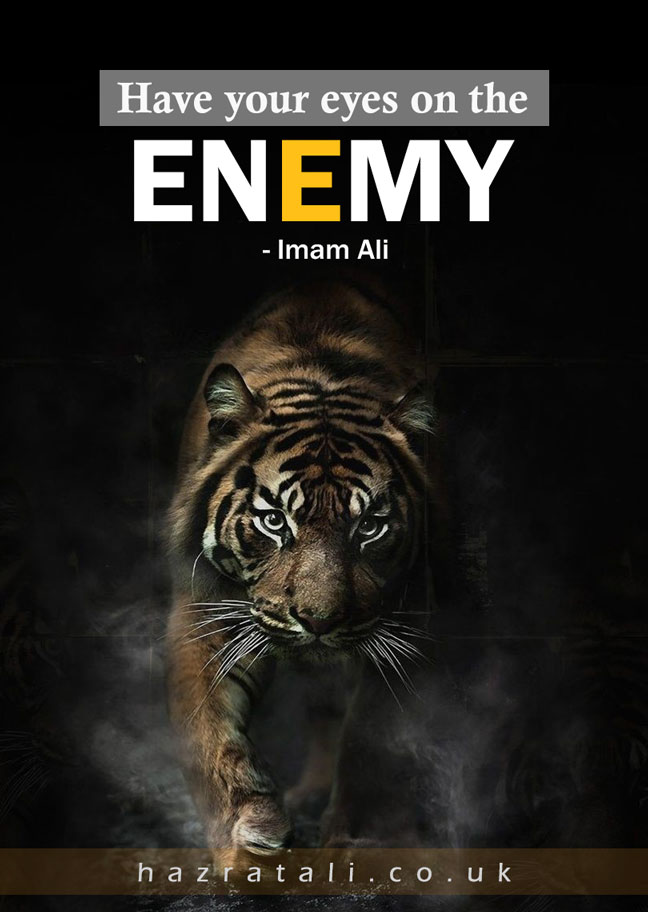 3- If you overpower your enemy, then pardon him by way of thankfulness to Allah, for being able to subdue him.
4- Adopt humility as the weapon between you and your enemy, Satan and his forces.
5- Be an enemy of tyrants and oppressors and be a friend and helper of those who are oppressed and tyrannized.
6- Do not develop friendship with the enemy of your friend otherwise your friend will turn into an enemy.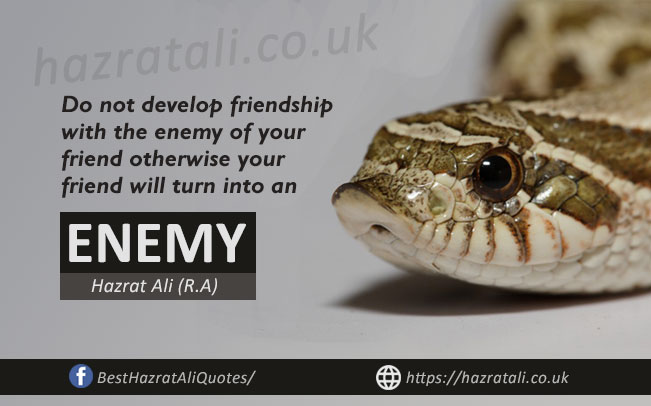 7- Every tyrant and oppressor is an enemy of Allah unless he repents and gives up oppression.
8- If Allah favours you with success and inflicts defeat to the enemy, then do not attack those who have surrendered, do not injure the disabled and weak, do not assault the wounded.
"O' ye men! eat of what is in the earth lawful and good and follow not the footsteps of Satan; for verily he is an open enemy unto you." (Qur'an, 2:168)
9- Remember, a warrior is always wary and vigilant and never careless and negligent. Whoever
is careless about his cause, his enemy will not sleep over this advantage.
10- If I give all the wealth of this world to a hypocrite to make him my friend he will not befriend me. It is so because the Holy Prophet (P.B.U.H) has said: " O Ali! No faithful Muslim will ever be your enemy and no hypocrite will ever be your friend."
11- "Nearest to the prophets are those persons who have to those prophets and obey them". Saying this, Imam Ali cited a passage from the Holy Qur'an 'Best liked by Abraham and nearest to him were the people who obeyed him'. He further said, "That the present times are the times of our Holy Prophet and his faithful followers. The best friend of our Holy Prophet is he who, though not related to him, obeys the orders of Allah and his greatest enemy is the man who though related to him, disobeys Allah '.
12- Grant favour and be considerate to your enemy because you will thus gain either one of the two kinds of victories: (one rising above your enemy, the other of reducing the intensity of his hostility).
13- If your enemy invites you to a Peace Treaty that will be agreeable to Allah, then never refuse to accept such an offer because peace will bring rest and comfort to your armies, will relieve you of anxieties and worries, and will bring prosperity and affluence to your people. But even after such treaties be very careful of the enemies and do not place too much confidence in their promises because they often resort to Peace Treaty to deceive and delude you and take advantage of your negligence, carelessness and trust. At the same time be very careful, never break your promise with your enemy, never forsake the protection or support that you have offered to him, never go back upon your words, and never violate the terms of the treaty. You must even risk your life to fulfill the promises given and the terms settled because of all the obligations laid by Almighty Allah upon man (in respect to other men) there is none so important as to keep one's promises when made.