Are you looking for Imam Hazrat Ali quotes about poverty? First of all you need to know the definition of poverty..
Poverty is defined as the "deprivation of common necessities that determine the quality of life, including food, clothing, shelter and safe drinking water, and may also include the deprivation of opportunities to learn, to obtain better employment to escape poverty, and/or to enjoy the respect of fellow citizens."
Like I mentioned, Poverty is said to exist when people lack the means to satisfy their basic needs.
Hazrat Ali Quotes about Poverty:
Below are given the sayings of Imam Ali about poverty: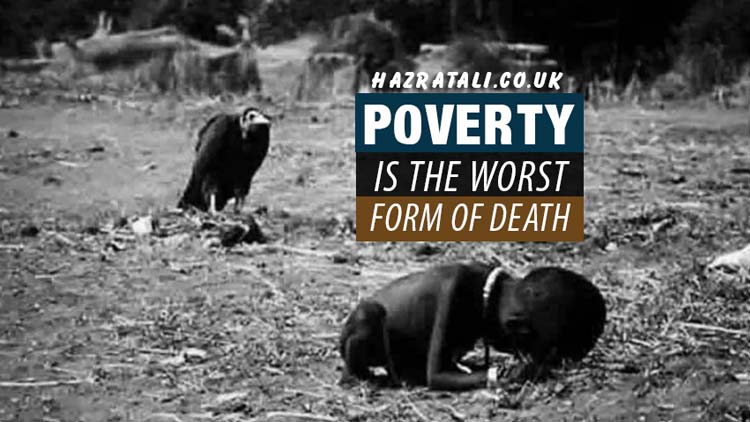 1- Poverty is the worst form of death.
2- Do not accept the advice of misers, they will try their best to keep you away from acts of kindness and from doing good to others. They will make you frightened of poverty.
3- If wealth produces conveniences, poverty serves as a guard for the character.
4- Poverty is neither a stigma nor a disqualification.
5- The bitterness of disappointment and poverty is in reality sweeter than the disgrace of begging.
6- He who practices moderation and frugality will never be threatened with poverty.
7- There is no greater wealth than wisdom, no greater poverty than ignorance; no greater heritage than culture and no greater support than consultation.
8- Wealth converts a strange land into homeland and poverty turns a native place into a strange land.
9- I swear by Allah that if I find you misappropriating the wealth of Muslims I will punish you in such a way that you will be left poor. Besides this poverty there will be the burden of sins on your shoulders, you will be disgraced and humiliated, losing your position and prestige.
10- If poverty was a man, I would've killed him.
11- The poverty of the people is the actual cause of the devastation and ruination of a country and the main cause of the poverty of the people is the desire of its ruler and officers to amass wealth and possessions whether by fair or foul means.
12- Certainly, Allah, the Sublime, has made it obligatory on true leaders that they should maintain themselves at the level of low people so that the poor do not cry over their poverty.
13- Cast your glance over people wherever you like, you will see either a poor man suffering from poverty, or a rich man ignoring Allah despite His bounty over him, or a miser increasing his wealth by trampling on Allah's obligations, or an unruly person closing his ears to all counsel.
14- The reward of the beggar who takes will be higher than that of the giver because the ways of earning livelihood of the rich will be unlawful, and whatever he will donate of it, its purpose will be showing himself, hypocrisy and seeking fame, for which he will not be entitled to any reward, while the poor who take it by force of their poverty and helplessness, and to spend it in the right manner, will deserve more reward and recompense.
15- Avarice is disgrace; cowardice is a defect; poverty often disables an intelligent man from arguing his case; a poor man is a stranger in his own town; misfortune and helplessness are calamities; patience is a kind of bravery; to sever attachments with the wicked world is the greatest wealth; piety is the best weapon of defence.
16- Imam Ali once said to his son Imam Hasan, My son, learn four things from me and through them you will learn four more. If you keep them in mind your actions will not bring any harm to you: The greatest wealth is Wisdom; the greatest poverty is stupidity; the worst unso- ciableness is that of vanity and self-glorification; and the best nobility of descent exhibits itself in politeness and in refinement of manner.